ABOUT OUTLOOK EXPRESS DUPLICATE REMOVER
Outlook Express Duplicate Remover is a convenient add-on for managing duplicate items in Microsoft® Outlook Express®. This software solution provides the possibility to detect duplicate Outlook Express items and apply the preferred actions to them - move to a certain folder, mark with a flag or delete from your workstation.
If you are looking for a handy solution to trace and kill your Outlook Express duplicates, Outlook Express Duplicate Remover is just a tool for you.
Outlook Express Duplicate Remover is a limited version. For more detailed comparison properties, advanced actions, and duplicate merging options, install Outlook Express Duplicate Killer. For more information please check out the Outlook Express Duplicate Killer website.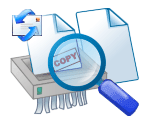 We would like to extend a special "thank you" to our many customers in the USA, the United Kingdom, Australia, Belgium, Germany, Switzerland, France, Singapore, and other countries for using our programs.

Copyright ©2007 4Team Corporation. All rights reserved.

Outlook Express Duplicate Remover demo

Outlook Express Duplicate Remover website
Version 1.00.0013/H0.02RS